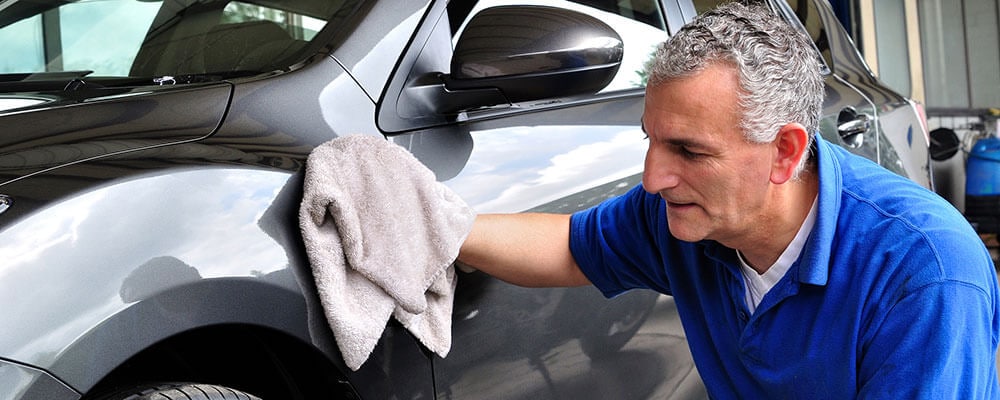 ?
How often should I wax my car? If you want to protect and preserve your car's finish, you should wax it at least twice a year. You'll enjoy benefits like a shiny fresh finish, plus a tough layer of protection against the weather, dust, and damage. You can choose to wax it more often, which is a good idea if you have a luxury vehicle or live in an area with extreme temperatures.
How to Wax a Car
Waxing your car is not difficult, but it is time consuming. The wax you choose makes a difference. Quick, soft detailing products are easy to apply, but they come off fairly quickly, within a few months. Hard wax, which is the most difficult to apply, lasts the longest.
Wash your car first, and have a bucket, water, microfiber applicator pad, microfiber towel, and your wax ready. You don't want the wax to dry too quickly, so park in the shade. Apply a light coating of wax to your vehicle in a vertical or horizontal pattern to prevent swirls. Rinse the applicator pad or wash mitt frequently so it stays clean. Buff the wax off with the microfiber towel, and you're left with a gleaming finish.
Of course, you can always choose to have your car professionally detailed and waxed, which saves a lot of time.
What's the Best Time for Waxing a Car?
What else is important about waxing a car? Timing. Wax your car in the spring, so it's ready for the summer heat, and then again in the fall, so it's protected against snow and ice. Watch to see if water beads when it lands on your car. If it doesn't, you're ready for another wax. Waxing more often gives you more protection against fading paint and cosmetic issues.
The TLC Your Car Needs
Waxing your vehicle will keep the exterior paint looking like new for the long haul, and that will help you maintain its value. If you need help caring for your paint or have bodywork needs, consult with Oak Lawn Happy Hyundai, near Tinley Park and Downers Grove. We can advise you on any issue, large or small. Contact us today!