Test Drive 2018 Hyundai Sonata Oak Lawn IL
View Inventory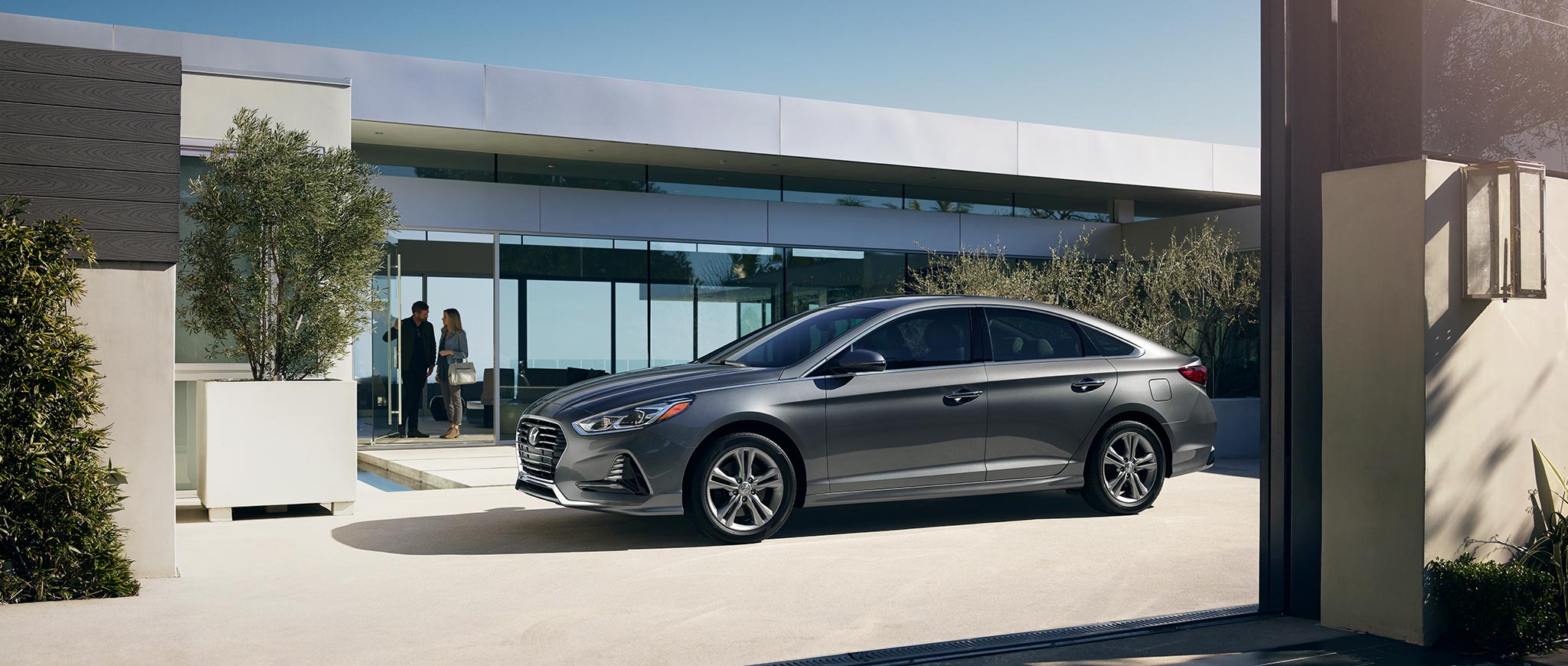 Vehicle Overview
The new Sonatas have arrived, and we have a host of options available for you in Oak Lawn Illinois at our dealership. Come and see all of the 2018 stock of Sonatas and get vehicles that have been engineered with increased safety, security, smart engineering and enhanced electronics to keep you well-entertained and protected on all your rides. Whether you're taking a trip to the store or going across the country, these vehicles are designed to give you the best power and control possible in a new vehicle. Come down and see all that we have to offer and you'll love your available choices.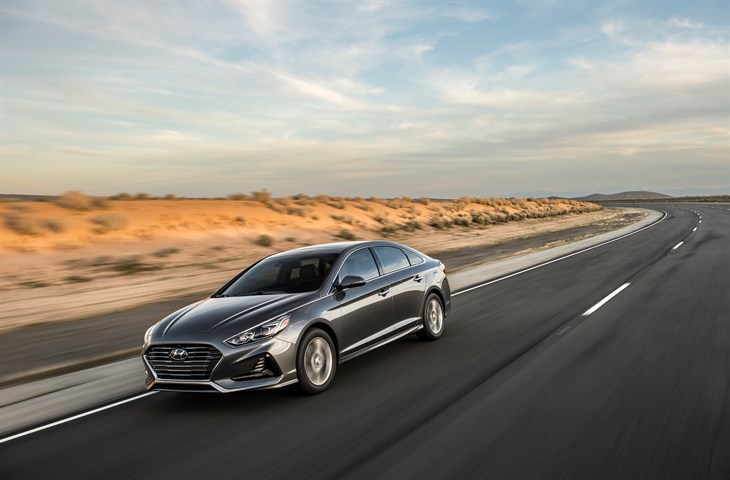 Exterior - Hyundai Sonata Dealership Test Drives
Our dealership in Oak Lawn Illinois has some of the best deals available on the new Sonatas, but it's mainly because we also have the options that you likely want in a 2018 vehicle. This vehicle is striking from the outside and comes in several different color options so that you can choose the best option for your situation and personality. The vehicle comes with optional LED headlights depending on the trim level you choose. LED lights provide a clearer and longer lasting view of the road, plus they require less energy to run.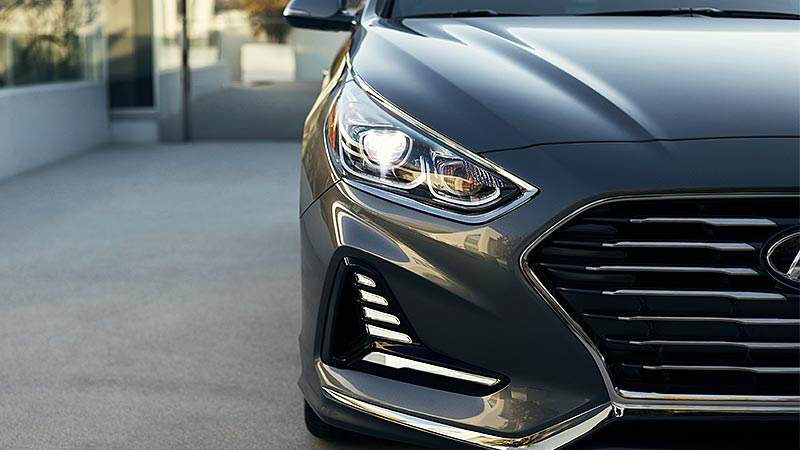 Come down and explore all of the amazing options that are available for you to get the best possible driving experience for your needs. We want you to be happy with this vehicle, but you need to come down and see how it handles to truly appreciate the aerodynamic styling and robust features that help to make this vehicle one of the smoother options on the road today. You'll also love the redesigned taillights, trunk and lower body panels that have been updated to give a more modern look.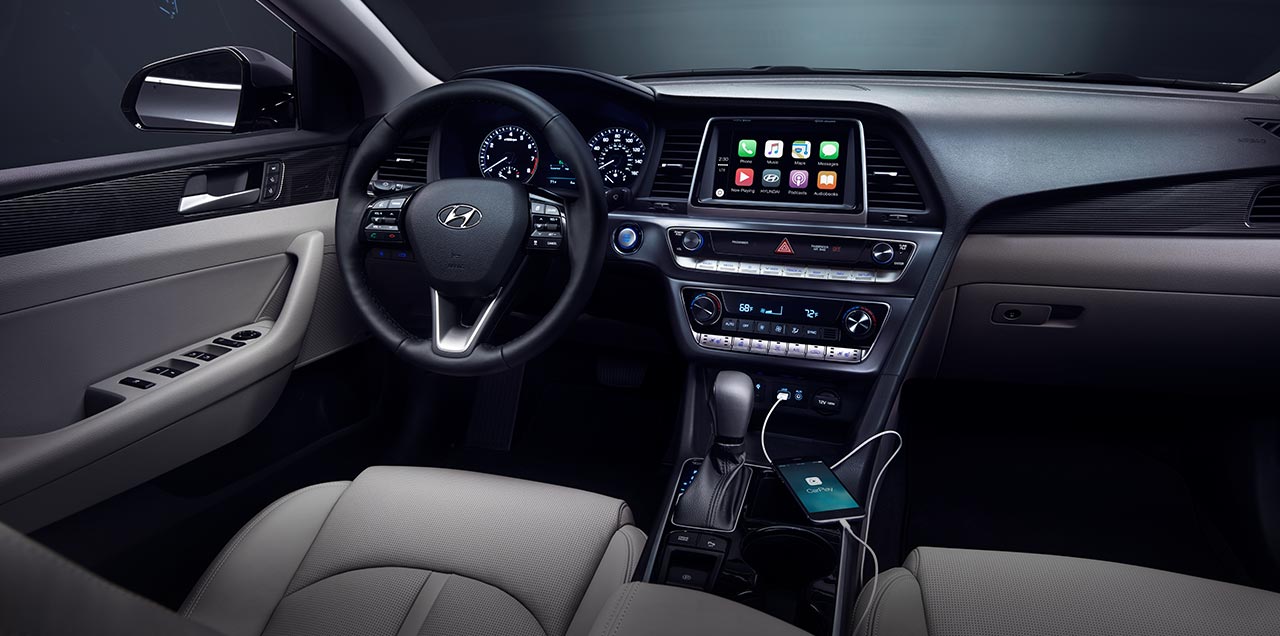 Interior - Schedule Your 2018 Hyundai Sonata Test Drive
Come down and take this vehicle for a spin so that you can get the best possible experience and make sure this vehicle is the right one for you. When you step inside, you'll be taken aback at the upgraded and roomy interior. A leather-wrapped steering wheel greets you as you enter the vehicle and the seats are designed to remember your settings for up to two drivers. The mirrors will also adjust and get saved in memory so that you can have your perfect settings up and running in less time than ever before.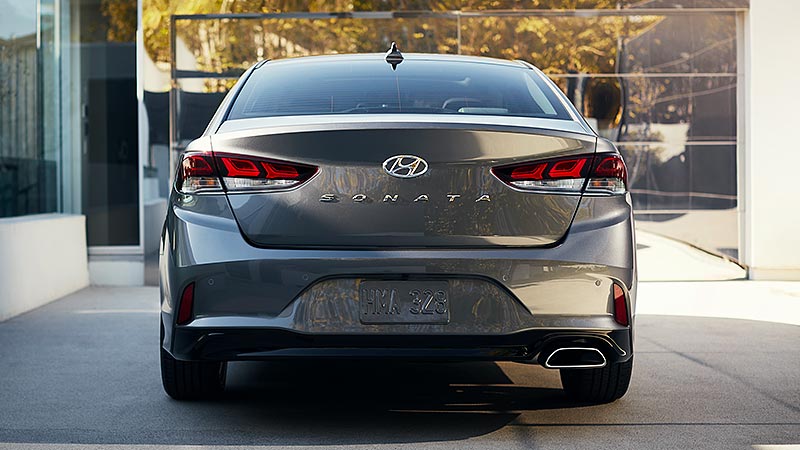 The vehicle is designed to give you a host of electronic features that will keep you entertained and listening to the best audio possible in this vehicle. The smart interior allows you to connect your favorite devices including Apple and Android phones. Stay connected and in charge of your life with a vehicle that makes it easier to get the things done in your day.
Mechanical/Powertrain - Sonata Information
Come down and take a test drive and explore the amazing engine options. The vehicle offers a 2.4-liter 4-cylinder engine that provides you with 178 pound-feet of torque and 185 horsepower. You can also choose a 1.6-liter turbo with 178 horsepower and 195 pound-feet of torque.For something a bit more powerful, consider the 2-liter turbo with 245 horsepower and 260 pound-feet of torque. At our Oak Lawn Happy Hyundai dealership we will do our best to help you get the vehicle you need to be happy. This vehicle comes with a front-wheel-drive drivetrain. You can choose from a six-speed, seven-speed or eight-speed transmission system and enjoy the steering-wheel-mounted paddle shifters to enjoy even more control over the finer adjustments of your transmission. With an independent front and rear suspension, you'll also get plenty of control with this vehicle. Come down and explore the options that are available to you and we will help you find a vehicle at the price point you're looking for.
Safety - Request a Personalized Hyundai Test Drive
The 2018 Hyundai Sonata is loaded with safety features to make you feel better protected on the road. All trims have some level of autonomous safety control built into the vehicle. At our Oak Lawn Happy Hyundai dealership, you'll be happy to know that every vehicle has blind spot detection, rear cross-traffic alert and lane change assist as standard equipment. The vehicle also comes standard with a rearview camera and many vehicles also come with rear parking sensors to give you even more control of your parking. The vehicle comes with a smart traction control system, anti-lock brakes, electronic brake-force distribution and several passive and active features to protect you. A full complement of intelligent airbags help you to avoid more serious injuries in a serious car accident. The vehicle even comes with a standard driver's knee airbag to protect your legs. Come down and see us so that we can tell you about all of the incredible features including the energy-absorbing steering column and side-curtain airbags that are designed to protect you from all corners.
Give our dealership a call to find out more about our available vehicles. We will provide you with all of the information you need to get more accomplished and find the vehicle with the right options for you. Our inventory often changes so make sure you contact us about the 2018 Hyundai Sonata at our Oak Lawn Happy Hyundai dealership in Oak Lawn Illinois. Make 2018 a year to remember with an amazing new vehicle.
*Informational/opinion based review. Please contact dealer for complete details.