Welcome to Happy Hyundai, the number one Oak Lawn IL Hyundai Santa Fe dealer, serving Oak Lawn Illinois drivers with outstanding customer service through our sales and service departments. We look forward to working with you directly to repair your Santa Fe and keep it running like new. Our service department is full of highly trained, qualified technicians who are experts with their brand and ready to perform scheduled maintenance as well as unexpected repairs to for your Hyundai Santa Fe. Whether you're coming in for a maintenance checkup, oil change or major repair, our staff delivers excellent customer service, so you can leave the dealership feeling happy and satisfied.
The Importance of Following a Maintenance Schedule or Completing Repairs
Regular items that are necessary for overall upkeep of your Hyundai Santa Fe are necessary for prolonging the life of your vehicle. It helps you avoid larger, more expensive issues in the future and keeps your engine and transmission running smoothly. Your vehicle is one you should be able to rely on fully every day, and we can make sure that happens with our outstanding service.
Failing to complete regular oil changes, for instance, results in numerous problems for your engine. The oil within your engine acts as a buffer and lubricant for your engine's internal parts. When these metal parts rub together, such as the pistons and other mechanical components, they create large amounts of friction, which in turn creates a lot of heat. It's the oil's job to absorb most of that heat and bring it away from the engine so that it doesn't overheat and so it can maintain a proper operating temperature. In addition to this heat buildup that the oil helps mitigate, the structure and composition of the oil break down over time, and it acquires metal particles and turns into sludge over time. Replacing your oil regularly will prolong the life of your engine and keep it clean and lubricated. It'll help improve your gas mileage, too.
Here is a list of the services we provide for your vehicle:
Oil Changes & Oil Filter Replacement
Tire Rotations
Fluid Changes
Brake Service
Air Filter Changes
Windshield Wiper Replacement
Mounting and Balancing Tires
Battery Check-Up
Wheel Alignments
State Inspections
Quality OEM Parts
At Happy Hyundai, your Oak Lawn IL Hyundai Santa Fe dealer, our technicians only install OEM parts, which means they are sourced directly from the manufacturer. We do not use aftermarket parts for Oak Lawn service and repair jobs, as they are often not produced with the same quality standards that the manufacturer of your Santa Fe employs. The parts we use are the same ones that were fitted with your vehicle at the factory, so you know that it will fit and perform exactly the same as the old part did. Our service center keeps ample OEM parts in stock for our Oak Lawn service and repair jobs, so you'll never have to wait long to get your vehicle returned to you. They are crafted from high-quality materials and are designed to last a long time as they provide peak performance. In addition, our OEM parts come backed with a warranty, typically for one year. This means if anything goes wrong with it in that period of time, it's on us to fix it for you. It's part of our commitment to excellent customer service.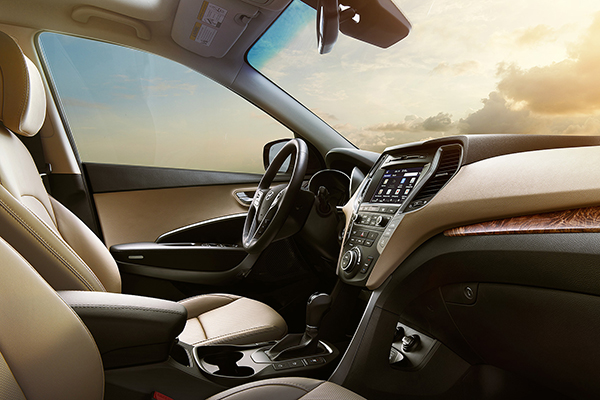 Qualified Service Technicians
Our team of service professionals has been highly trained to be experts in their field, especially with repairing this brand's vehicles, from their small cars to larger SUVs. They have been educated and trained by top-notch instructors to become experts in this vehicle brand. You can feel confident knowing your vehicle is in good hands with someone who knows exactly how your vehicle operates and behaves. Part of our service routine, besides the repairs and maintenance you've asked us to complete, includes a multi-point vehicle inspection, where we look at various areas of your vehicle that are prone to damage, rust or wear and tear and let you know if we find anything concerning. We'll take a look at your brake pads and see how they're wearing down, check your tires, and make sure the major interior functions are operating properly. If we find anything, we'll let you know and offer to repair it during your service appointment. If not, not to worry, we can get to it next time if it doesn't affect the safe operation of the vehicle.
Contact us here at Happy Hyundai, serving Oak Lawn Illinois drivers, today for scheduling a Hyundai Santa Fe service and repair in Oak Lawn IL. We look forward to working with you to keep your vehicle in the best shape possible, so it will perform and drive as well as it was designed to do. Call to schedule an appointment with us today. We look forward to serving you.