Overview
The 2018 Hyundai Sonata is a premium sedan that has a lineup of seven models. Powertrain options for this car include two turbocharged engines and a 2.4 L engine. A Chicago area 2018 Hyundai Sonata review covers all of the impressive features that are available in this car, such as an 8-inch infotainment system. Some notable active safety features in the Sonata include the Automatic Emergency Braking and Lane Change Assist.
Interior
Customers who look for a Chicago area 2018 Hyundai Sonata review will be amazed by some of the vehicle's interior amenities. The Limited edition is available with leather-appointed front seats that come with heating and ventilation for the ultimate comfort in any season. 2018 Hyundai news also cover information on the dual zone automatic climate control system. Oak Lawn Happy Hyundai offers plenty of data on the Sonata's high-tech amenities that provide great guidance and entertainment. An 8-inch touch screen provides easy access to GPS navigation software with real-time updates by SiriusXM. A nine-speaker sound system by Infinity can be turned on to play songs on SiriusXM Satellite Radio. Customers who read Hyundai news will also find out that the Sonata includes Android Auto and Apple CarPlay. Additionally, the Blue Link suite makes it easy to sync other types of mobile phones.
Exterior
The color menu for the Hyundai Sonata's exterior includes Scarlet Red, Nouveau Blue, Lakeside Blue and Symphony Silver. A touch of shiny chrome is added to the car's door handles, front grille and exhaust pipes. The exhaust systems are available with single, dual or quad designs. A rear diffuser is paired with the 2.0 L turbo engine for aggressive performance. All of the models come standard with rear spoilers and shark-fin radio antennas. A Chicago area 2018 Hyundai Sonata review includes information on the LED headlights and daytime running lights in select models. HID xenon headlights are also offered by a Chicago Hyundai area Sonata dealer. A smart trunk with a hands-free design is another convenient amenity that's available in this premium sedan.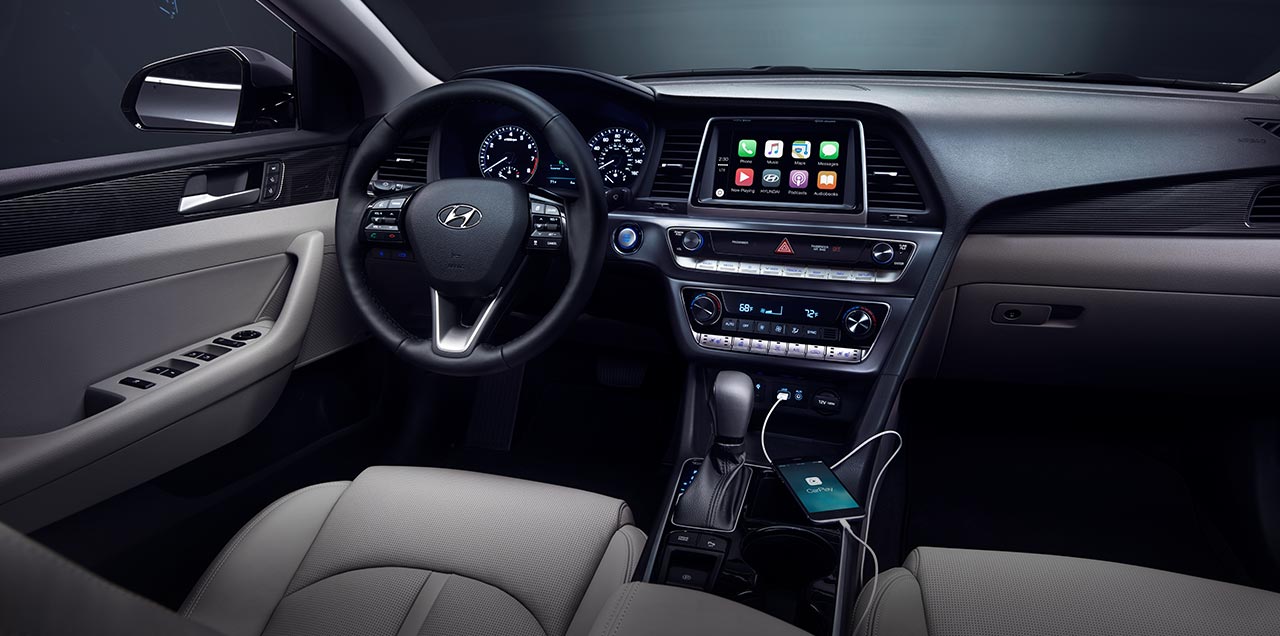 Mechanical
Customers who are interested in 2018 Hyundai news might be impressed by the Sonata's mechanical installations. This sedan includes a front suspension system with traditional MacPherson struts that are rigid enough to absorb harsh impacts. A multi-link layout defines the car's rear suspension system that also provides good balance. A motor-driven power steering system makes it easy to control this vehicle on any road. A sport-tuned steering system is installed only in the models that run on the 2.0 L turbo engine. This advanced steering system is also paired with a sport-tuned suspension system that's optimized for agile handling on the track. A Chicago Hyundai area Sonata dealer will be glad to talk about the car's disc brakes that perform well in inclement weather and other challenging conditions. This dealership also has the latest Hyundai news on the Sonata's unibody frame that's designed for good aerodynamic performance on the highway.
Powertrain
The 2.4 L engine in the 2018 Hyundai Sonata is capable of producing slightly more than 180 horsepower and nearly 180 pound-feet of peak torque. Installed exclusively in the Eco model, a 1.6 L turbo engine has an output of just under 180 hp and almost 200 lb-ft of torque. The 2.0 L turbo engine whips out about 250 hp and 260 lb-ft of torque. This powerful engine block is paired with an all-new automatic transmission system that has a gear box with eight speeds. All of the engines run on the Dual Continuously Variable Valve Timing technology. Gasoline direct injection (GDI) is the standard mechanism that's used to deliver fuel into the powertrain. A Hyundai dealership serving Chicago Illinois will also talk about the six-speed SHIFTRONIC automatic transmission system that's paired with the 2.4 L engine. Additionally, the 1.6 L engine is coupled with the seven-speed EcoShift transmission system that includes dual clutches. Oak Lawn Happy Hyundai provides plenty of detailed information on the Sonata's performance specifications. Hyundai news on this model may cover the Drive Mode Select that provides additional choices for shifting gears. As expected, this Hyundai sedan is fitted with a classic front-wheel drive.
Safety
The Blind Spot Detection in the 2018 Hyundai Sonata is supposed to detect another car that's moving into your blind zone. This feature works in sync with the Rear Cross Traffic Alert to help you avoid colliding with another vehicle that's approaching from behind or the side. Thanks to the Lane Change Assist, you don't have to worry about getting into lateral collisions while merging into an adjacent lane. A Hyundai dealer serving Chicago Illinois will also talk about the benefits of the Sonata's Automatic Emergency Braking, which engages the brakes when there's a high risk of a forward crash. 2018 Hyundai news are available on the model's Dynamic Bending Light that automatically adapts to the curvature of the road ahead. Capable of switching between high and low beam, the Automatic High Beam Assist also makes it easier to drive at night. This premium Hyundai sedan is available with parking sensors that are installed in the rear bumper. When you get too close to another parked vehicle, the system will issue loud beeps.
Serving Chicago Illinois, Oak Lawn Happy Hyundai has a large selection of 2018 Hyundai Sonata models. When visiting this Chicago Hyundai area Sonata dealer, customers can test drive the SEL, Eco, Limited and other trims that are available in the inventory.