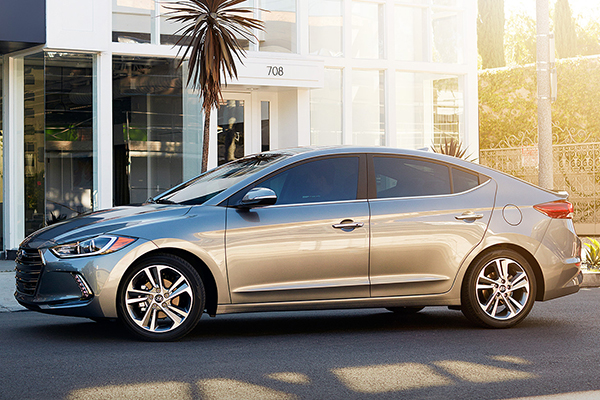 Review - 2018 Hyundai Elantra GT Chicago Illinois
If you have been searching for a fun vehicle with lots of cargo space, be sure to check out the 2018 Hyundai Elantra GT. A family-friendly interior makes the Elantra GT an even more rewarding car. While even the base model comes loaded with popular features, the top-of-the-line trim is especially luxurious. In terms of performance, the 2018 Hyundai Elantra GT definitely packs enough power to put a grin on your face. If you want to learn more details about this hot hatchback, be sure contact Oak Lawn Hyundai today. This world-class dealership will be more than happy to schedule you a test drive.
Interior
As soon as you step inside of the 2018 Hyundai Elantra GT Chicago Illinois, you will immediately notice its refined character. The interior's attractive styling and solid construction give a major advantage over the competition. A sport steering wheel and race-inspire gauges come standard. While even the base Elantra GT has a premium feel, upgraded leather upholstery makes the interior look especially luxurious. Superb passenger comfort remains one of the Elantra GT's best qualities. The hatchback's well-bolstered seats will provide hours of comfort on the road. Heated and ventilated seats are optional. Most importantly, everyone in your family be rewarded with plenty of room. While the Elantra GT proves to be a fun daily-driver, it is also relaxing enough for long-distance traveling. A spacious cargo area takes the sporty hatchback's appeal to the next level. As expected, your local Hyundai dealer serving Chicago Illinois will offer a number of exciting components. Featuring Apple CarPlay and Android Auto, the standard infotainment system enables you to quickly locate your favorite apps. Bluetooth technology is yet another modern convenience. Featuring a thumping subwoofer, the high-powered Infinity sound system gives the hatchback an extra degree of driving excitement. Some of the other upgrades consist of a high-resolution instrument panel, a wireless charging pad, and a panoramic sunroof. Remember, you can always contact Oak Lawn Hyundai for more information of the available trim packages.
Exterior
You can expect the 2018 Hyundai Elantra GT Chicago Illinois to demand a great deal of attention. Onlookers will immediately turn their head to check out the hatchback's sporty styling. A bold grille and projector headlamps enable it stand out from the competition. Even the budget-friendly base model flaunts a sleek rear spoiler and daytime running lights. You will also notice the base model's 17-inch alloy wheels. If you really want to impress your friends and family, take a peek at the top-of-the-line Sport model. It boasts full LED lighting and an even more stunning set of 18-inch alloy wheels. Not only do the turn-signal indicators look cool, but they also make the Elantra GT a safer vehicle. Like a powerful sports car, the Elantra GT Sport comes with a twin-outlet exhaust system. A number of thrilling paint colors will be available. Remember, all of the latest Hyundai Elantra GT information is available at your local dealer.
Mechanical
Whether you are cruising on the highway or taking the back way home, the 2018 Hyundai Elantra GT will always provide an exciting driving experience. In comparison to the outgoing version, the all-new Elantra GT's structure is more than 50 percent stronger. This means you can take full advantage of the hatchback's improved driving dynamics. While the base model is certainly a blast to drive, the Sport model offers especially nimble handling. A fully independent suspension enables the Elantra GT Sport to carve corners like a sharp knife. Fortunately, the hatchback's nimble character does not impact its impressive ride quality. During your test drive, you will be able to experience the car's class-leading level of fun.
Powertrain
The 2018 Hyundai Elantra GT Chicago Illinois was engineered to deliver a punchy performance on the road. With a total output of 162 horsepower and 150 pound-feet of torque, the base four-cylinder engine packs enough muscle for most drivers. A variable valve timing system helps the engine to deliver a remarkably smooth performance. While some drivers will prefer the six-speed manual transmission, the automatic transmission's Drive Mode Select feature makes it just as exciting. If you crave a bit more power, step up to the turbocharged engine. Direct injection helps the engine to push out an exciting 201 horsepower and 195 pound-feet of torque. You are bound to become addicted to the Hyundai Elantra GT Sport's quick acceleration. The good news is that you won't have to sacrifice much fuel economy. Your local Hyundai dealer serving Chicago Illinois urges you to schedule a test drive.
Safety
When riding in the new Elantra GT, you will always remain protected. Although the new Elantra GT has yet to receive a safety rating, its high-strength steel frame is designed to absorb powerful impacts. Featuring dynamic guidelines, the standard backup camera will help you to easily park the hatchback in congested areas. Of course, a long list of high-tech driving aids are offered. Automatic Emergency Braking can bring you to a quick halt. Meanwhile, Smart Cruise Control prevents driver fatigue on long journeys. Some of the other advanced safety innovations include blind-spot monitoring, Lane Keep Assist, and Attention Assist.
For more Hyundai Elantra GT information, be sure to contact contact Oak Lawn Hyundai! This is one of the most anticipated new rides on the market.