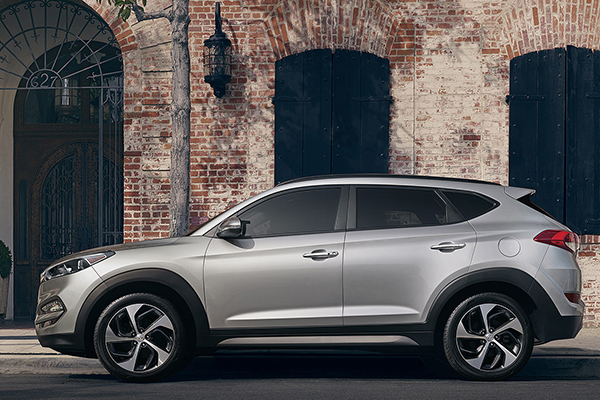 Discover The Elegant 2017 Hyundai Tucson
Today, drivers seeking a fashionable compact SUV capable of seating five people comfortably appreciate the elegant 2017 Hyundai Tucson! Suitable for both work and recreational use, this superbly designed brand offers exceptional value. Savvy car shoppers in Illinois want to learn more about the 2017 Tucson's impressive capabilities. Place your email address on Oak Lawn Hyundai's list of people interested in receiving free information about this enticing vehicle!
A Fine Interior
Why do so many drivers in Northern Illinois notice the Tucson? This expertly-designed SUV offers a plush, comfortable cabin. As soon as you open the driver's door and slip inside its classy interior, you'll realize the upscale appearance of this trendy crossover's seats! The manufacturer employed high quality materials in designing a really eye-catching decor. From the intuitively placed dashboard instrument display panels, to the adjustable rear seats, this vehicle offers a welcoming environment. Of course, Hyundai also considered important communications and infotainment issues; you'll enjoy a variety of available options for adding Bluetooth and streamed satellite radio to your daily drive! With access to available features such as NavTraffic and AppleCarPlay, can't you just see yourself controlling this vehicle almost effortlessly? The Tucson helps many customers savor a relaxing, fun daily commuting experience!
Exterior Style
Quite frankly, this compact SUV's appealing sculpted exterior lines also attract interest. Anyone who desires an eye-catching four-door aerodynamic vehicle will find this brand truly satisfying. You know your Tucson will favorably impress family and friends because its stylish design just looks so stunning! The vehicle's hexagonal grille and sleekly contoured profile convey an aura of sophistication. Plus, you can select the 2017 models in some dazzling paint colors, including Caribbean Blue and Sedona Sunset. When you visit your local Hyundai dealership serving Oak Lawn Chicago Countryside Tinley Park Illinois, we'll show you some examples of the 2017 Tucson's glossy exterior trim. Most people really have fun choosing a favorite model.
Intelligent Mechanical Design
Of course, 2017 Hyundai Tucson serving Countryside appreciates the importance of the brand's balanced mechanical design elements, also. The engineering team included some important innovations this year. A liftgate in the back uses available automatic "hands free" technology, a great convenience when loading and unloading cargo. From the modern anti-lock braking system to the vehicle's state-of-the-art multilink suspension and advanced available sensing technology, this easily maneuvered crossover relies upon modern automotive engineering principles. The vehicle's surprisingly affordable price appeals to customers, too. Take action now to sign up to receive 2017 Hyundai Tucson specials in your email in-box from your local dealership serving Oak Lawn Chicago Countryside Tinley Park Illinois. We want to ensure you obtain information about the new Tucson in time to take full advantage of appealing money saving offers!
A Modern Powertrain
This compact SUV relies upon a direct fuel injection 2.L four-cylinder engine. Some trim packages offer available options for adding additional horsepower. If you anticipate towing with your 2017 Tucson, tell 2017 Hyundai Tucson serving Countryside about this important requirement. We may suggest some available powertrain options to boost the horsepower. Some trim models offer a 1.6L Turbo GDI engine, for instance. Tucson specials frequently provide a way for customers to choose affordable powertrain enhancements to help customize products very effectively. It feels good to take full advantage of this brand's impressive available engineering features!
Hyundai Values Safety
When you receive emails from Oak Lawn Hyundai serving Oak Lawn Chicago Countryside Tinley Park Illinois, you'll notice the impressive safety features engineered into the 2017 Tucson. Many standard items, including a rear view camera, contribute to the ease of operating these compact SUVs. In addition to airbags and safety belt technologies, the manufacturer developed some useful (and very high tech) driver advanced warning systems as available safety options. Ask us to demonstrate some of these features during your test drive! Taking a test drive gives you the opportunity to really observe this remarkable brand's performance under local driving conditions. As you travel along roads in this area, you can assess how well the Tucson meets (or exceeds) your expectations.
Contact Oak Lawn Hyundai
Many households in this area recognize the advantages offered by the newly redesigned 2017 Tucson models. 2017 Hyundai Tucson serving Countryside hopes to become your best resource for researching high quality automotive values. After you sign up to obtain regular notification about attractive Hyundai Tucson specials and bargains, you'll want to act quickly to explore the most interesting products. For instance, if we mention a 2017 Hyundai Tucson containing features or trim options you'd prefer in your next vehicle, don't hesitate to request a test drive! We see many outstanding values at this time of year, but some vehicles do generate a lot of customer excitement. By acting decisively when you discover a tempting offer, you'll place yourself in a much better position to secure an outstanding deal. Oak Lawn Hyundai strives to provide excellent customer service, so we'll try and alert you promptly when we locate a vehicle in our inventory possessing features you've requested. Call us to test drive the remarkable 2017 Tucson soon!