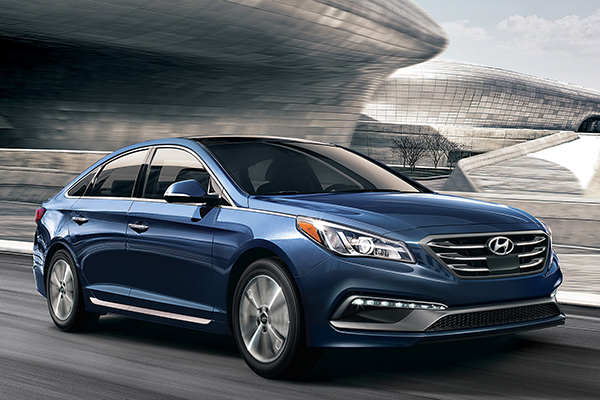 2017 Hyundai Sonata Hybrid serving Countryside IL
The 2017 Hyundai Sonata Hybrid continues to impress critics. They call it pragmatic-yet-plus and give it A ratings for its overall package of features. The sedan stands up to its rivals, offering a bigger cabin and more amenities. Ask our knowledgeable online staff about Hyundai Sonata Hybrid specials.
Interior
From its pillow-soft steering wheel to its numerous soft touches, you'll find high quality materials throughout the cabin of the 2017 Hyundai Sonata Hybrid serving Countryside. Color schemes offer more interior choices than you'd expect, including a special Blue Pearl. The cloth upholstery can be upgraded to leather with woodgrain trim. Best-in-class front headroom and legroom are matched with large seats. The backseat has legroom to rival a larger sedan. The Hybrid cockpit surrounds the driver with technology. Push button start, dual-zone climate controls, and entertainment are all within reach. You can stay comfortable with ventilated and heated front seats. The back row can enjoy heated seats, rear sunshades, and rear venting. A standard touchscreen lets you access Bluetooth audio streaming and view live feed from the integrated back-up camera. Users pinch and zoom just like they would with a tablet or phone. An Infinity audio system adds nine speakers. SoundHound, Pandora and other apps offer plenty of music choices. Expanding even more this year, Hyundai added Apple CarPlay and Android Auto. For a closer look at these fine cabins, visit your Hyundai dealer serving Oak Lawn Chicago Countryside Tinley Park Illinois.
Exterior
Sonatas earned an A in the Edmunds shopping guide, and it's easy to see why when you are standing at the curb, looking at the 2017 Hyundai Sonata Hybrid serving Countryside. These sedans are curvaceous, distinctive, and decidedly modern. This grown-up styling looks sophisticated next to some stodgier brands. Iconic Flux aerodynamics has reshaped the rocker panels, making them a better match for the Eco-spoke alloy wheels. The new aero rear bumper is matched to a downward-extending rear diffuser and a small trunk-edge spoiler. Other changes include new taillight graphics and horizontal grille bars. The large trunk measures 13.3 cubes, which is better than some other hybrids this size. Engineers actually moved the battery pack for this edition, adding more room for your luggage and gear. Even though this is a hybrid, the backseats do fold to allow you to claim more space. The trunk opens with a special hands-free power-lift when you approach it with the key in your pocket or purse. The Limited Ultimate package adds a panoramic sunroof.
Mechanical
The hybrid technology includes a battery pack and an electric motor. These provide horsepower and recharging energy to keep the hybrid on the move. Efficiency has been boosted by 10 percent this year as engineers managed to get more from the electric motor and the battery pack. This allows it to rely less on the gas-powered engine. Switching between electric and gas power is nearly undetectable thanks to the smart transmission. At high speeds, the automatic utilizes tall final gear ratios to keep highway fuel economy in check. Hyundai utilizes at traditional six-speed automatic transmission instead of a noisier, less predictable CVT transmission. A plug-in model lets you add up to 27 miles of gas-free driving. On electric alone, it can travel at speeds up to 75 mph. Oak Lawn Hyundai is your home for the 2017 Hyundai Sonata hybrid serving Countryside.
Performance
Shoppers will do well to test drive the 2017 Hyundai Sonata Hybrid at Oak Lawn Hyundai. That's the only way they will know for sure that this hybrid really is powered for performance. The Car Connection writes that the Sonata Hybrid never feels detached like other hybrids, even when it's driven harder such as climbing inclines. How does it do it? Well, this midsized sedan creates 193 horsepower utilizing its four-cylinder engine in combination with its battery pack and electric motor. This rate is better than the regular Sonata and most sedans this size. Furthermore, despite all of its variety in components, the new Sonata Hybrid really doesn't weigh more than the regular one. This allows it to enjoy a better horsepower-to-weight ratio, doing more with each horse under the hood. If fuel economy is your major concern, the SE earns slightly more at the pump than the Limited edition. For those who are ready to go electric, it is interesting to note that the Plug-in editions actually boost horsepower to 202.
Safety
The 2017 Hyundai Sonata Hybrid can definitely claim safety as one of its finer aspects. The car is certified with five stars from the National Highway Traffic Safety Administration. This extremely modern ride is offering contemporary crash avoidance features. You can get alerts for lane departures and frontal crash dangers. A lane change alert accompanies the blind spot monitor. The adaptive cruise control regulates speed to match conditions, applying the brakes when necessary for safety. Aiding the rearview camera, a rear cross-traffic alert watches for dangers when you are driving in reverse. The car's ten-year powertrain and five-year limited warranties add peace of mind to every purchase. Learn more about the latest Hyundai Sonata Hybrid specials when you contact your dealer serving Oak Lawn Chicago Countryside Tinley Park Illinois.
Get behind the wheel at Oak Lawn Hyundai. Ask about the latest Hyundai Sonata Hybrid specials.