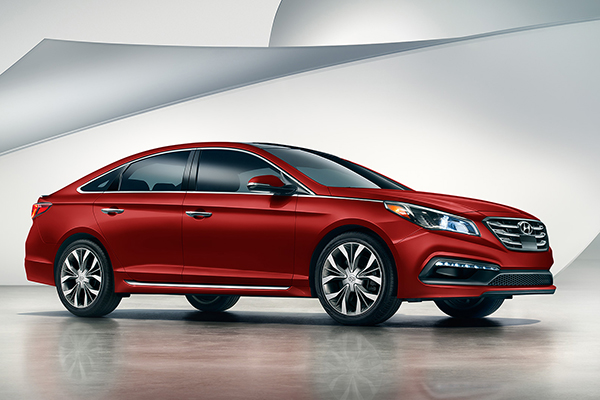 Overview
If you're tired of lackluster vehicle performance and want something with some real kick, come down and check out the Sonata for sale at our Oak Lawn dealership serving the 60453 area. Our specialists will help you find a vehicle on our lot that matches your needs and preferences, and we will do whatever we can to make it possible to drive home a new vehicle today. When you come down and preview our inventory, we can set up a test drive so you can evaluate whether the Sonata will meet your needs. With grand styling, powerful performance and exceptional safety features, you can't beat a Sonata.
Interior
An expansive cabin is the first thing you'll notice about the Sonata. Starting with a leather-wrapped steering wheel, you'll feel wrapped in comfort amidst the glow of your 8-inch touchscreen and the plush ventilated power-adjustable seating. These vehicles are designed for exceptional lumbar support so that you can feel properly supported throughout your drive. Interior volume is at a maximum with the best-in-class interior space and plenty of room for five people and their luggage. Come down to our dealership and see the 2017 Hyundai T Sonata for Sale in Oak Lawn, IL 60453. We have a vehicle with the options you need and the components you trust. Our Oak Lawn Hyundai Sonata dealership will help you get into a vehicle you want with our great deals and exceptional financing offers.
Exterior
Splash on your favorite choice of six different color options and get ready to experience a vehicle that is designed to be aesthetically pleasing and functional. This vehicle uses a strong and sophisticated design to reduce cabin vibration, lower wind noise and decrease the level of drag in your vehicle. With two options for a sunroof, you're going to have some decisions to make. Choose the panoramic sunroof and you'll enjoy a movie theater view of the sky. Go with the tilt and slide, and you'll be able to let more of the fresh outside air into your cabin. After checking out this vehicle, you'll want to know about our Hyundai Sonata specials that can make it possible to drive home a new vehicle today. Come check out what we have available in our Sonata for Sale selection of vehicles. At our Oak Lawn dealership serving the 60453 and surrounding areas, we want to sell you an experience as well as a car.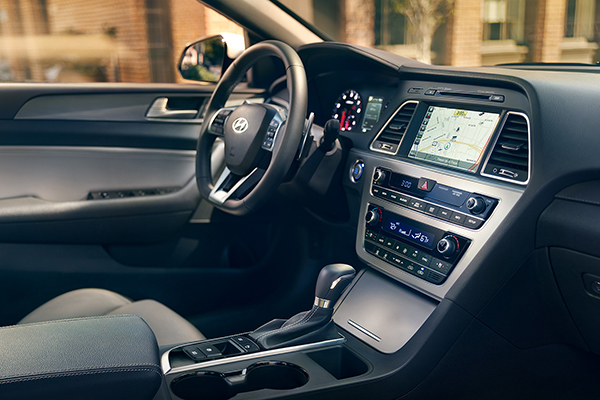 Mechanical
The Sonata is simply more satisfying than ever to enjoy and drive. Get behind the wheel of a vehicle that has gone through extensive chassis and suspension upgrades to give you an even smoother and lightweight design. The result is better nimbleness, a more effective overall drive and front and rear suspension components that are designed to give you greater control and maneuverability. Design is so much a functional part of this vehicle that you'll even enjoy amazing soundproofing that reduces the sound of the road to help you enjoy a quiet and peaceful drive. Outstanding mechanical features are available to make the 2017 Hyundai T Sonata for Sale in Oak Lawn more affordable than ever. If you live in the IL 60453 zip code or the surrounding area, we are proud to be your Oak Lawn Hyundai Sonata dealership.
Powertrain
When it comes to power, it's not enough to have an engine with a lot of torque and horsepower. You'll get that with the Sonata, and the Sonata 2.0T twin-scroll turbo outputs 245 horsepower for a vehicle that keeps up with the best of them. However, you also need a sturdy and reliable engine, and that's where the one cast stainless-steel piece comes in. This engine block is designed to withstand some abuse and last you for years. When it comes to Hyundai Sonata specials, you need to weigh the pros and cons of a powerful powertrain and one that simply provides a good level of fuel efficiency. With our Sonata for Sale options, you'll be able to find a vehicle that meets your needs in the 60453 zip code.
Safety
Think back at the number of times your attention slipped and you almost hit that vehicle that stopped suddenly in front of you. With automatic emergency braking, this sort of situation is a thing of the past. The car uses both radar and a camera to try and avoid a collision by applying full braking pressure at speeds from 5 to 50 miles per hour. You'll also get other smart features designed to protect you and the pedestrians on the road, but you'll need to come down to our dealership to see these features in action. Safety is one of the features we're most proud of in our 2017 Hyundai T Sonata for Sale in Oak Lawn. In the past, the only safety feature you could see were the seatbelts. In modern cars, safety features are more interactive and provide active prompts to make you better aware of your surroundings. Come down our dealership located in Oak Lawn, IL 60453, and find out how we can help you stay even safer on the road.
Our Oak Lawn Hyundai Sonata dealership wants to provide you with some of our best offers on a new vehicle. When you visit our dealership, we will let you know about Hyundai Sonata specials and help you get the best deal for your money. Come down and see us today, and get a new vehicle that will change your life.