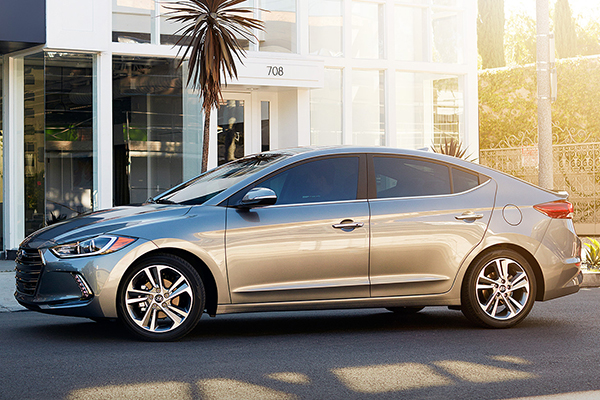 Overview
For style, grace and sophistication, you can't beat an Elantra. A smart vehicle that seems to anticipate your needs, you'll find that this vehicle actually improves your life. Through advanced technology, a powerful engine and advanced storage capabilities, you'll be able to tackle life and accomplish more. Come down to our dealership in the IL 60453 zip code and we will work with you to find an Elantra that meets your needs. Our Oak Lawn Hyundai Elantra dealership goes above and beyond to help our customers take advantage of the latest Hyundai Elantra specials.
Interior
Elantra continues to reinvent itself and the new version of the vehicle isn't new to fans of the vehicle, it's just better. A 7-inch display makes it easier to access your entertainment and vehicle controls, and you'll love the increased comfort and features that are designed to put you in control of your life. This vehicle offers a host of options to give you a better overall driving experience. Come and view our Elantra for sale to find a vehicle with the interior features that you want. Our Oak Lawn dealership is here to help you get more from your purchasing experience. If you live in the 60453 area code, you have nothing to lose. Our dealership is proud to offer you the 2017 Hyundai Elantra for Sale in Oak Lawn, and we can help you get more for your money.
Exterior
The outside matters and this vehicle provides a demanding appearance. You'll love the 16-inch wheels and the power tilt-and-slide sunroof to get a better view of the sky above. When it comes to visibility, you'll see farther and use less energy with the available LED daytime running lights. The vehicle is designed to be highly aerodynamic, and you'll be able to enjoy an amazing view of the road with the exceptionally well-designed windshield and exterior dimensions. For residents who live near our Oak Lawn, IL 60453 dealership, you can come down and check out the Elantra in person. Our staff at the Oak Lawn Hyundai Elantra dealership will provide you with the best Hyundai Elantra specials to help you get more done. Come and see what we have to offer, and we'll help you get a great deal. Besides the sleek look and highly attractive styling, this vehicle is simply one of the best deals on the market.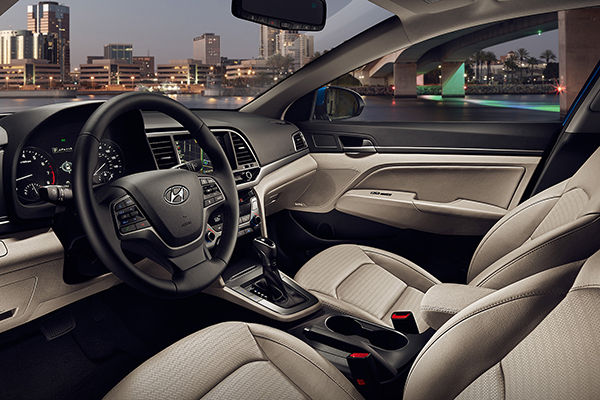 Mechanical
It's the mechanical features that determine how enjoyable your drive will be and this vehicle comes with all the features you could possibly want. You'll get an amazing array of options to help you enjoy a smooth and reliable ride. From a sport-tuned nimble suspension that features a multi-link rear setup to the expertly engineered steering column that makes this vehicle more responsive than ever, you'll enjoy a capable and powerful vehicle that handles exceptionally well. Come and see all of the mechanical features available in the Elantra for sale at our exclusive dealership. We'll help you get the best deals in the 60453 zip code, and you'll be able to take home one of our 2017 Hyundai Elantra for Sale in Oak Lawn today. That new car smell is just moments away when you step into our dealership.
Powertrain
With several models available, you can pick the Elantra that you want to get more power out of your daily commute. Enjoy a 201 horsepower engine that will help keep you in control on the road, and you'll soon see why this vehicle has been rated so highly. One of the most powerful engines available on any Elantra model is the 201 horsepower engine that is available with a turbocharger. The base engine on an Elantra is 147 horsepower, which beats out both the Nissan Sentra and Toyota Corolla. The engine is what matters most if you want to enjoy good fuel efficiency and an effective design. We love serving the Oak Lawn, IL 60453 community, and it's vehicles like the Elantra that make it so much fun. Our customers love the powertrain of this vehicle, and they often comment on how smooth and quiet this vehicle functions. When it comes time to visit your Oak Lawn Hyundai Elantra dealership, you'll be able to get the best Hyundai Elantra specials available.
Safety
When you're driving an Elantra, your safety is a top priority for this vehicle. You'll get an available lane departure warning, available smart cruise control and the option to add lane keep assist in keeping you on the straight and narrow. These features are coupled with traditional safety capabilities, including a full set of airbags, a reinforced safety cage and some of the best technologies available for helping you come out of an accident intact. If you're looking for an Elantra for sale, you're making a smart choice. These vehicles are exceptionally safe and will help you get more from your daily commute. You'll love the outstanding safety features and incredible design of these vehicles. Come down and check out our dealership to get the best deals and offers around.
If you live in the 60453 zip code, we want to become your preferred dealership. Come down and see our stock of the 2017 Hyundai Elantra for Sale in Oak Lawn and get a great deal on your next vehicle purchase. We'll do what we can to get you the right options and features to ensure you're thrilled with your new car.